About us
HAI LU JYA HE CO., LTD
Make A Change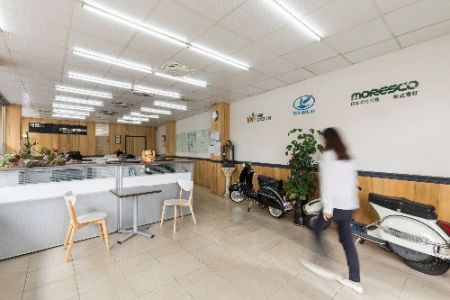 HAI LU JYA HE Enterprise Co., Ltd. (HLJH) is located in Taiwan with over 30 years of experience in industrial lubricants and metalworking fluids(MWFs). We are specialized in cutting oil, industrial lubricant, rust preventive oil, wastewater treatment and monitoring cutting fluids system, and so on. Apart from the products, we constantly devote our experience and total solutions who are known for on-time delivery, good quality, honest, product sustainability, advanced technology, and constant innovation with a solid reputation in the field. For Hai Lu Jya He., Co Ltd (HLJH), green and white are our business color which represent the business philosophy. Green represents eco-friendly and sustainable development. And white represents harmless and low pollution.

■ Fastest responses for your inquiries and responsible attitude of our sales team.
■ Customized service (OEM/ODM)
■ In-house quality control to ensure your goods are well produced.
WHO WE ARE
HLJH was established in 1982, we as a manufacturer of metalworking fluids, suppliers of industrial lubricants, especially MORESCO's only sole agent in Taiwan. In Taiwan, there are two sites we have, one is a manufacturing factory in Changhua City and the other is an office and warehouse in Tanzi Dist., Taichung City.

We have three blending mixing stirring tanks and own laboratory in the factory so that our average production can reach 150 tons of cutting fluids per month. Therefore, we can enough deal with mass production. Not only that, we're an ISO 9001:2015 certified organization that complies with the most stringent quality standards that you can rely on.

On the other hand, we have a professional sales team and on-line service team to resolve all your problems with industrial oil immediately. And, we also have a large warehouse for storing the goods safely. Therefore, we surpass our competitors in delivery time, quality, and service, especially for large quantities required shortly. Above all, HAI LU JYA HE Enterprise Co., Ltd. (HLJH) is the number one choice as we are equipped to offer integral service.
WHAT WE DO
HAI LU JYA HE (HLJH) is devoted to resolving all of the problems with industrial oils, and expects to bring more product value for each industry.
We are specialized in MWFs , and we also provide total solution of industrial oil for your reference. More than 30 years' experience, we have full know-how and technology which can support you. Here are our service and product as below.

■ Metalworking Fluid (Cutting Oil)
■ Lubricant Oil (Slideway Oil, Hydraulic Oil)
■ Rust Preventive Oil
■ Wastewater Treatment Machine
■ Quality Monitoring System for MWFs
WHAT WE SERVICE
■ Communicated the demand in detail and recommend suitable MWFs
■ Customized Service (OEM, ODM)
■ Offer variety MWFs type
■ After-sales service (Sales, Online service)
Interview

Taiwan's TV program (真心看台灣) interviewed HLJH's general manager, Tseng Huan-Lung who is selling metalworking fluids with over 30 years of experience. Tseng Huan-Lung:As a manufacturer of metal working cutting fluids, we devoting to realize that doing well by doing good. We constantly reaching sustainability into each of its business decisions, supplies environmentally friendly products or service that has minimal negative impact or potentially a positive effect on the global or local environment, community, society, or economy.
Press Release
IoT Coolant Monitoring System

Maintaining proper coolant concentration levels for machine tools extends cutting tool life and cutting oil life ,and helps ensure quality workpiece surface finishes.

Read More

MORESCO GR-5 Synthetic Fluids

High lubricity ensures quality grinding by removal of fine particles, resulting in a regular and clean surface which is recommended for glass. GR-5 synthetic fluids that formulate without...

Read More

Wastewater Treatment Machine

UF membrane excels at the clarification of solutions containing suspended solids, bacteria and high concentrations of macromolecules, including oil and water.

Read More