MORESCO Proof SP-300
Solvent-Based Long Term Rust Preventive Oil
Model No.: (50G) UM-1-A01; (5G) UM-1-B02
Rust Preventive Oil, Anti-Rust Oil, Anti Corrosion Oil, Solvent Cut Back Rust Preventive Oil
MORESCO PROOF SP-300, rust preventive oil is a high-quality solvent cutback type which has very good water displacement characteristics and fingerprint corrosion prevention property for semi-finished or finished parts.
MORESCO PROOF SP-300, rust preventive oil forms pale yellow soft film, and has excellent metal adherence properties and protects all metals from corrosion which is also suitable to apply on ferrous and non-ferrous metals and workpieces in the medium to long term, especially is highly recommended for the "exporting products".

MORESCO PROOF SP-300, long term anti corrosion oil has been verified by means of a salt spray test (6 ~ 48 hours) which is suitable for exporting goods. Therefore, you do not have to worry about parts getting corrosion during sea freight transport. MORESCO PROOF SP-300 against corrosion can be applied by dipping, spraying. Rust prevention of finished up machine parts such as bearings.

MORESCO SP-300 rust preventive oil is backed with 100% satisfaction which is certified ISO 9001:2015 QMS. As a manufacturer and supplier of industrial lubricants, we always give you the best and suitable advice for your reference. The SDS, TDS and product certifications of MORESCO SP-300 are all available upon request through the "Files Download" button. If you have any needs, please send an inquiry or email to let us know. We will contact you as soon as possible.
Feature
Excellent remove ability.
Excellent rust protection.
Very fast drying time and leave a thin film.
Coating of workpieces in preparation for shipment, especially transport by sea.
Protect metals during storage or while temporarily out of process.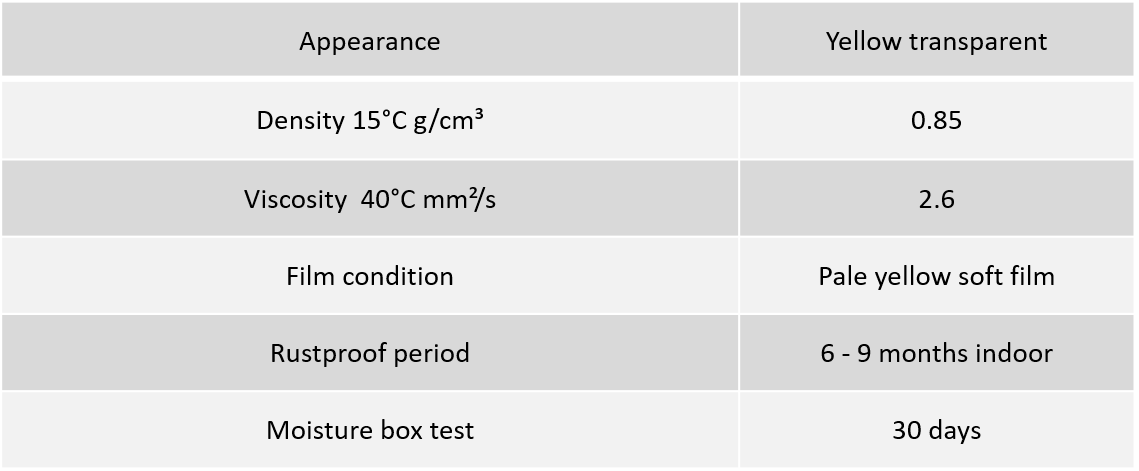 Specification
Pail: 18 Liters (5 Gallon)
Drum: 200 Liters (50 Gallon)
Storage
Expiration Date: 6 months (Please refer to Material Safety Data Sheet (M.S.D.S) )
Avoid direct sunlight, under normal temperature, keep in a dry and cool place.
Files Download

A Technical Data Sheet is a document which describes the technical data of a raw material. It is important for our use of the material in the intended...

Download

Protect health and security and also a duty to properly label substances on the basis of physio-chemical, health or environmental risk. (Date Prepared:2021.04.18)

Download

Product certification confirms that a product meets the necessary local, national or international quality standards relevant to a particular market or product...

Download

Related Products

Short Term Rust Preventive Oil

WILL RUST PROOF W-609 is a unique rust preventive oil which provides great protection against...

Details
Catalog 2022
Download full Catalog 2022 in PDF format.

Download
MORESCO Proof SP-300 - Model No.: (50G) UM-1-A01; (5G) UM-1-B02 Rust Preventive Oil, Anti-Rust Oil, Anti Corrosion Oil, Solvent Cut Back Rust Preventive Oil | Eco-Friendly, Harmless & Low Pollution Industrial Lubricants Manufacturer And Supplier Since 1982 | HLJH
Located in Taiwan, HAI LU JYA HE CO., LTD has been an industrial lubricant manufacturer and supplier. Main products, include MORESCO Proof SP-300, metalworking fluids, industrial lubricants, soluble cutting oils, semi-synthetic cutting oils, synthetic cutting fluids, neat cutting oils, rust preventive oils, slideway oils and hydraulic oils, which can reach 150 tons of cutting fluids per month.
HAI LU JYA HE Co., Ltd. (HLJH) have been focusing on manufacturing and marketing the industrial lubricants more than 30 years. Our fundamental belief is to make a harmful, friendly with lives, businesses, and leaving a lasting legacy for generations to come. We offer metalworking fluids (water-based cutting fluid, neat cutting oil), rust preventive oil, hydraulic oil, slideway oil, spindle oil, gear oil and so on that cover the whole industrial lubricant value chain. Our fundamental belief is to offer harmful and friendly products such as water-based cutting oils, neat cutting oil, rust preventive oil, hydraulic oil, slideway oil, spindle oil, gear oil and so on that cover the whole industrial lubricant value chain.
HLJH has been offering customers high-quality metalworking oils and fluids, both with advanced technology and 39 years of experience, HLJH ensures each customer's demands are met.