WILL AIE-72 Emulsion Coolant
Made in Taiwan, All-purpose water soluble cutting fluid
Emulsion Cutting Fluid, Cutting Oil, Metalworking Fluid, Metal processing Oil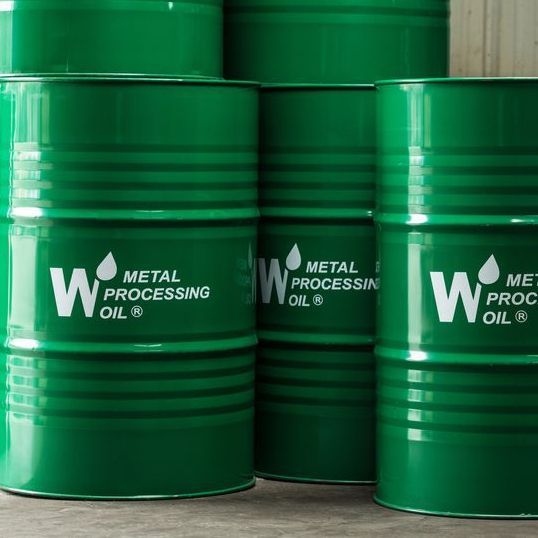 HLJH AIE-72 cutting fluid has the excellent lubricating, cooling, washing abilities and good rust protection.
WILL AIE-72 is a kind of all-purpose emulsion cutting oil which is mixed with water that produces a milky white color. And the mineral oil accounts for 50% to 80% of emulsion cutting fluid, so its lubrication is better than semi-synthetic and synthetic two types of cutting oil.

For applications, AIE-72 metal working fluid is called all-purpose cutting fluid which suitable for various materials, especially for aluminum alloy. It emphasizes excellent anti-foaming property, anti-corrosion ability, anti-rust ability, and without chlorine additives that you can use it dependable. It's worth noting that AIE-72 cutting fluid can be used for hard water and soft water. As we know, hard water is difficult mixed with coolant that it easily separates oil and water while metal processing, so AIE-72 cutting fluid is a stable emulsion cutting fluid that is backed with 100% satisfaction.

Besides, we're an ISO 9001:2015 certified organization which complies with the most stringent quality standards to manufacture industrial oils and lubricants. On the other hand, WILL that is own brand by Hai Lu Jya He(HLJH) made in Taiwan. We also offer OEM and ODM services for customized cutting fluid. Contact us for more professional advice.
FEATURES AND BENEFITS
Preventing the change of color in work materials, especially aluminum alloy
Excellent lubrication lead to perfect workpieces, and extend tools life
Good wash property keep machine and work area clean, and reduce stickiness on workpieces
Without chlorine(PRTR free), AIE-72 still brings into full play properties, and also good for environment
APPLICATION
Suitable of materials for aluminum and stainless steel, etc.
Suitable of processing for lathe, boring, milling, drilling, tapping, threading, reaming, sawing, etc.
PACKAGE
Pail:18 Liters / 5 Gallons
Barrel:200 Liters / 50 Gallons
STORAGE
Storage:Avoid direct sunlight, under normal temperature, keep in dry and cool place.
Expiration date:6 months (Base on brand-new)
Substances floating on the coolant may be seen in the beginning of use. They are antifoaming additive and disappear in a couple of days.
Health and Safety
Safety Data Sheet protect health and security and also a duty to properly label substances on the basis of physio-chemical, health or environmental risk. Based on available information, this product is not expected to produce adverse effects on health when used for the intended application and the recommendations provided in the Material Safety Data Sheet (MSDS) are followed.

SDS and TDS are available upon request through Files Download button. If you can leave more information to let us know your demand, we'll thankful.
Files Download

---

Blog

Decreased grinding fluid performance? Excessive corrosion?Maybe it's time your water quality was evaluated. Coolants contain ~90% water, with the remainder containing additives to prevent from corrosion, foaming, and bacterial growth. However, while the quality of these additives is precisely controlled by the coolant manufacturers, the water quality varies depending on its source. Therefore, your water quality should be monitored before diluting the concentrated coolant. Factors that affect water quality are water hardness, pH, and the presence of chlorides, sulfates, and lead. Monitoring the pH level can identify bacterial growth. Generally speaking, hard water is the amount of calcium and magnesium salts, expressed in milligrams of calcium carbonate per liter of water (ppm). A pH of 7 is defined as natural. Water below pH 7 is acidic, above pH 7 is basic. Most commercially available coolants are basic in their concentrated form with pH levels between 9 and 12. For example, the ideal hardness levels for glass working coolant are between 80 to 110 ppm. Water with hardness value below 70 ppm is considered soft and may result in foaming whereas hardness value that exceeds 200 ppm is consider hard and may result in separate oil from water. Hard water contains sodium and potassium salts, which can cause machine and work-piece corrosion. It can also cause significant discoloration on the surface of steel and aluminum parts. Besides, hard water is difficult mixed with coolant, so it easily separate oil and water, and part of the concentrated liquid is consumed to soften the water, and cannot function as a cutting fluid. In order to ensure the performance of cutting fluids, adding more concentrated fluids increased the cost. 【TOTAL HARDNESS (ppm) EVALUATION】 ■ Very soft:0 - 49 ■ Soft:50 - 124 ■ Medium:125-249 ■ Hard:250-369 ■ Very hard:370 and above ▼ Recommended standards for water hardness of cutting fluid Recommended water hardness is between 50ppm. And it resulting in poor cleaning performance. It is recommended to consult relevant professionals for on-site inspection and analysis.

Read More
Press Release
IoT Coolant Monitoring System

Maintaining proper coolant concentration levels for machine tools extends cutting tool life and cutting oil life ,and helps ensure quality workpiece surface finishes.

Read More

MORESCO GR-5 Synthetic Fluids

High lubricity ensures quality grinding by removal of fine particles, resulting in a regular and clean surface which is recommended for glass. GR-5 synthetic fluids that formulate without...

Read More

Wastewater Treatment Machine

UF membrane excels at the clarification of solutions containing suspended solids, bacteria and high concentrations of macromolecules, including oil and water.

Read More