MORESCO Cutting Fluid
BS-9
Emulsion Cutting Fluid| Water Soluble Cutting Fluid|Metalworking Fluids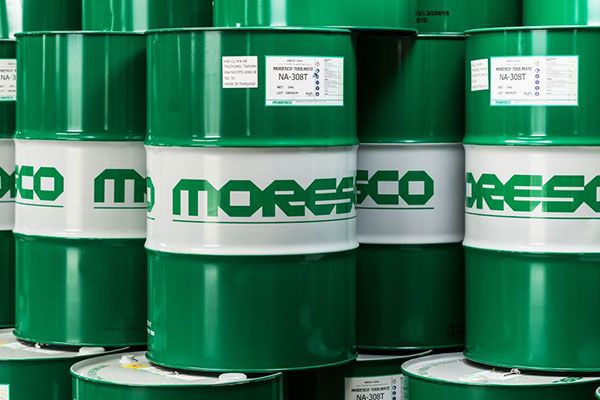 Cutting fluid has the great effect such as cooling, cleaning, no foaming and excellent rust protection.
The HLJH's emulsion cutting fluid, MORESCO BS-9, is bio-stable type and used for a long period of time without addition of any antiseptics. Especially, MORESCO BS-9 has excellent aluminum compatibility
FEATURES
● Mainly effective for non-ferrous metals and aluminum material.
● Excellent anti-corrosion effect to non-ferrous metal, especially aluminum alloys, which preventing the change of color in workpieces.
● Non chlorine, PRTR free.
● Excellent cooling and lubricity.
● Excellent extreme pressure protection.
● Extended tool and wheel life.
● Operator friendly and clean running. Improved surface finishes.
Lower tool tip temperatures and prevention of chips from welding to the tool and the workpiece.
APPLICATIONS
Suitable for many kinds of material, such as aluminum, steel, stainless heat, resisting steel, casting iron and titanium.
Suitable for aero-space parts, semi-conductor manufacturing equipment parts.
Suitable for lathe, boring, milling, drilling, tapping, threading, reaming, grinding, etc.
OUR ADVANTAGE
Certification:RoHs, TGRS, Reach, TDS, SDS
Health and Safety:Based on available information, this product is not expected to produce adverse effects on health when used for the intended application and the recommendations provided in the Safety Data Sheet (SDS) are followed.
Files Download

---
Press Release
IOT Cutting Oil Monitoring

Detect concentration and quality of water immediately. Provide AI alarm services that it can get accurate reliable data.

Read More

Glass Cutting Oil

Glass is a fragile product. The cutting oil is suitable for glass processing that need to consider materials and hardness.

Read More

Wastewater Treatment Machine

"One-Stop Service" of wastewater process, only few steps can reach the lower wastewater without any chemical processing.

Read More