October, 2019
2019/10/18
HLJH
Warmly congratulate we passed the audit of ISO 9001:2015 successfully
Company News:Certified ISO 9001:2015 QMS
ISO9001:2015 is the international standard for a quality management system. In order to be certified to ISO9001:2015 standards, Hai Lu Jya He has followed the requirements set forth in the ISO standards which meet corporate social responsibility and to comply with product safety rules.

Upon review, the auditor stated that the management system is fully effective and meets the requirements of the ISO 9001: 2015 standard. On October 18th 2019, Hai Lu Jya He certified ISO 9001:2015 Quality Manage System from GREAT International Co., LTD.

We are proud of the result and congratulate the team on their effort!!Hai Lu Jya He also have arranged factory audits routinely to assure the requirements are met as well as the compliance requirements for our customers. Besides, we are constantly improving the communication with the management team and increase the health and safety of our workers.
---
ISO 9001:2015 Quality Management System Certification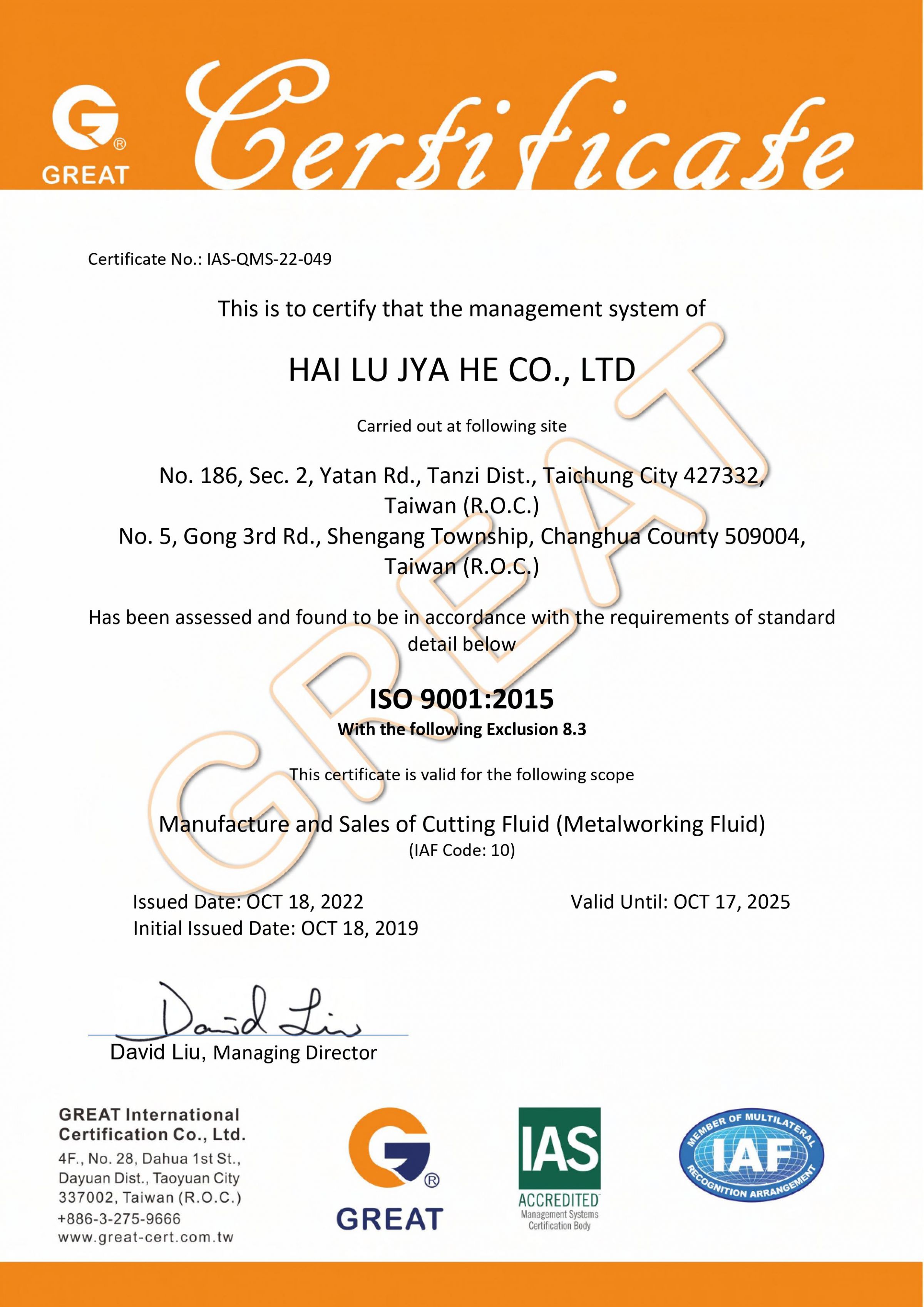 Press Release
MORESCO BS-6M Soluble Cutting Fluid

Through Ball-on-plate test, BS-6M has superior lubricating and cutting property, especially suitable for aluminum and copper alloy.

Read More

MORESCO BS-88 Soluble Cutting Fluid

The newest popular product BS-88, it is suitable for all common materials, and it has superior stability and defoaming ability.

Read More

MORESCO E-500 Soluble Cutting Fluid

E-500 cutting oil is the one of hot products which has the excellent stability for variety materials while machining.

Read More