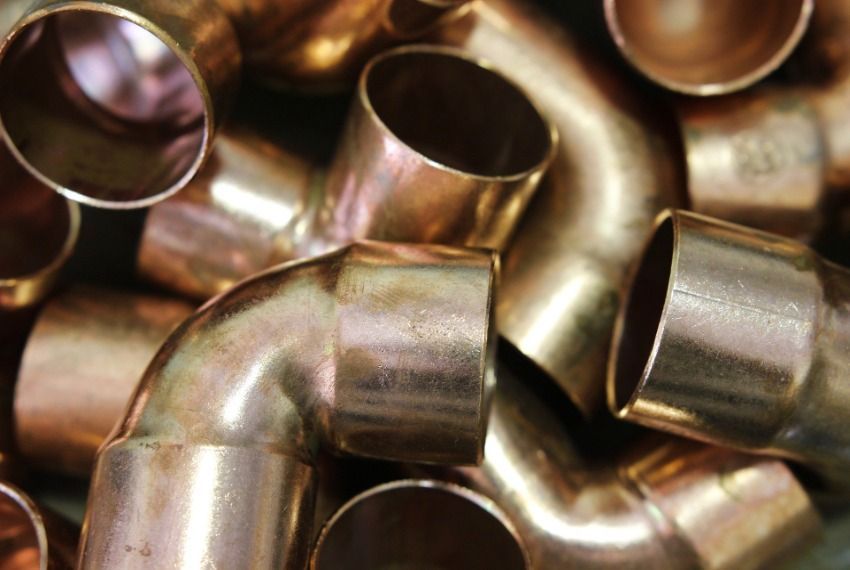 Brass & Copper
Selection of cutting fluid for brass and copper alloy
Has your brass/bronze/copper got discolored during machining? Or has your cutting oil color changed in the coolant tank? Alright! There's some clues we can check.
---
Choosing the right cutting fluid or cutting oil for machining brass and copper is crucial to achieve optimal results, including extended tool life, improved surface finish, and efficient chip evacuation. But what is the reason that your coolant gets the color changed? Some formula (additive) has reacted with oxygen, water, and carbon dioxide in the water tank when you're machining copper and brass. Therefore, it's not really affect cutting ability if just the color changes to green, which is a normal reaction.

Cutting oils are generally compounding mineral oil and multi additives to stable pH level, lubricity. And, sulfur and chlorine compounds, sometimes called extreme pressure (EP) additives, provide for even greater lubricity. But, they are not good for every metal, especially non- ferrous metal. Most brasses, bronzes, and copper are stained when exposed to cutting oils containing active sulfur and chlorine. In that case, we'll recommend using non-active sulfurized cutting oil to prevent some additives to oxidate workpieces.

Plus, please check your cutting oil's concentration first. If your cutting oils do not have enough lubricity, metal chips will stick on tools, and even scratch the workpieces. If the chips settle in the coolant tank, not filtered immediately, it will cause oxidation. That is why the coolant forms that same patina in the sump....

Hai Lu Jya He recommended MORESCO NN-254T, NN-205T, NN-308T, NN-158T neat cutting oils with non-active sulfurization. For water-based cutting fluid, we recommend MORESCO BS-6S semi-synthetic cutting oil and WILL AIE-75 and WILL AIE-73 semi-synthetic cutting oil without chlorine additives. These cutting oils are good on brass, and provide excellent performances during machining.

At Hai Lu Jya He, our expert team is dedicated to assisting you in selecting the perfect cutting oil for your equipment. Contact us (+886-4-25332210) today to discover how our metalworking oils can enhance your machinery's efficiency, durability, and overall performance.
Neat Cutting Oil
| Product Model | Density 15°C | Viscosity 40°C | Package |
| --- | --- | --- | --- |
| MORESCO NN-254T | 0.85-0.88 | 23-26 | 18L / 200L |
| MORESCO NN-205T | 0.872 | 20.06 | 18L / 200L |
Water Soluble Cutting Fluid
Recommend Product

Chlorine-Free Eco Semi-synthetic Cutting Oil

MORESCO BS-6S semi-synthetic coolant which is called all-purpose coolant, and used in many industries such as hardware parts, bike and automotive parts....

Details

Chlorine-Free Eco Semi-Synthetic Cutting Oil

WILL AIE-73 is a chlorine-free content semi-synthetic metalworking coolant formulated for grinding, drilling, cutting, forming applications that forms...

Details