IoT Monitoring and Compensation for Coolant
HLJH-01
Monitoring & Compensation with Oil Skimmers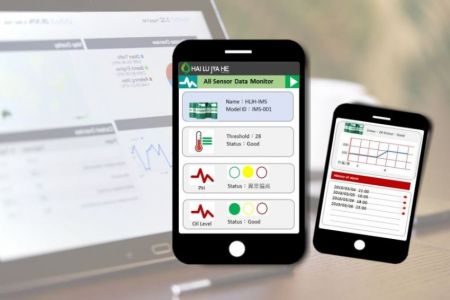 Description
IoT monitoring and compensation, the machine is an innovative system automating your coolant management process which automatically detect pH value, purify the coolant and add additives immediately to ensuring optimum performance and extending the life of the coolant.
Use of coolant is usually essential when machining on CNC processing units. The need to keep coolants clean has become an even greater issue. If you've worked in a machine shop or metalworking facility for any length of time, you may have no doubt encountered a variety of unpleasant odors when metalworking coolants are allowed to "rest" over the weekend. That means your cutting fluid is getting worse unconsciously.

In the past, staff(operator) need to check pH value every day for every machine that works on manual. It really spends a lot of time to maintain cutting fluids. If this is only done irregularly or even forgotten, there is a high risk that the cutting oil will getting deterioration. At the same time, we used to oil skimmer to separate and remove the floating oil from machine to keep coolant quality. But, is it enough?

Even though oil skimmer can purify coolant, it cannot detect pH scale immediately. This leads to an annoying mess when adding water or oil and abnormal concentrations which may adversely affect the service life of the tool and the machine life. Therefore, HAI LU JYA HE combined the oil skimmer, intelligent monitoring and automatically add additives that ensuring the optimum performance and extending the life of the coolant. This way can monitoring, purify cutting fluids and lower the cost at the same time.
Specification
Power require: General high-pressure air

Effective flow:380L / HR

Chassis material: Iron Covered with paint

Pressure value:2.5 kg/cm2

Minimum start air pressure value:1.7 kg/cm2

Volts:110

Size:W 45.5cm x D 43cm x H 70cm
---
Features & Benefits
Keep coolant quality, reducing the cost of coolant
Purify coolant, extend life of coolant
Data Visualization, web-enabled device to access related information, no matter where you are
Automatically alert notification & compensation additives
Components
Microcomputer
pH Meter and Temperature Meter
Stainless steel filter
AP Additive (8 Liters)
Pump
Article

As we all know that a precise concentration is a key point for a stable emulsion and optimized lubrication. But, there's another critical key:WATER QUALITY. Unlike neat oils, which are used in metalworking operations in undiluted form, water-miscible fluids are normally diluted with water to form an emulsion.

Read More
Press Release
IoT Coolant Monitoring and Compensation

Combined the oil skimmer and IoT device that intelligent monitoring pH scale and automatically compensation AP additive to ensure the optimum performance and extending the life of the coolant.

Read More

MORESCO GR-5 Synthetic Fluids

GR-5 synthetic fluid has great settling and wash abilities that prevent chips scratch workpieces while machining. It is commonly used in screen shell glass grinding or optical glass grinding.

Read More

MORESCO BS-6S Semi-synthetic Cutting Fluid

BS-6S cutting oil is best in aluminum alloy and copper materials. BS-6M can control and prevent the color change while machining.

Read More